To provide family friendly exercise coaching, and healthy lifestyle advice, that is good value, fun, innovative, achievable, and bespoke to your needs as a busy parent!
About
Hi, I'm Sarah…
A mum of 2 and founder of workoutlikeamum. I setup workoutlikeamum to offer free workouts, meal ideas, and recipes, along with some honest (and balanced) posts about life as a busy mum working to stay fit and healthy. I have been through my own personal journey losing weight, which is why I am so passionate about what I do and genuinely love every minute of it. Find out more about me and my background here!
My qualifications
REPs registered fitness professional
Level 2 Gym Instructor
Level 3 Pre & Post natal Exercise
Level 3 Personal Training
Level 2 & 3 Anatomy & Physiology
Exercise for fat loss
Circuit Training
Core Training
Behaviour Change Coaching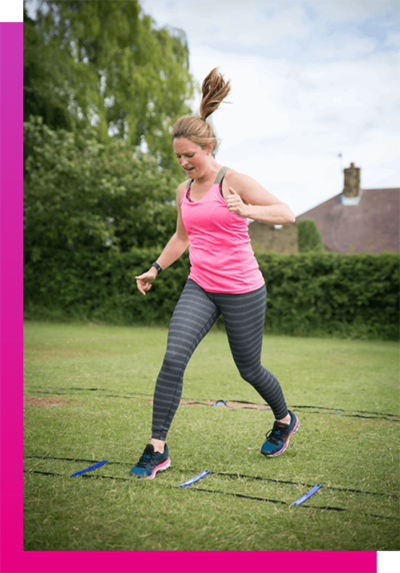 Classes
3 types of classes to suit you…
OUTDOOR classes last between 45 minutes to an hour and are planned to give an all over body workout. Each session will generally start with a circuit using free weights and various equipment. The circuits can then be followed by anything from boxing to a short hiit workout as each week is different. The sessions will always end with some core exercises and stretching. The main part of the class is outdoors and depending on weather we can go inside to finish with the core and stretching.
HIIT classes are 30 minutes of High Intensity Body weight exercises.
MUM AND BABY
 classes last between 45 minutes to an hour and are planned to give an all over body workout. The classes are different each time and include circuits, resistance exercises and cardio work suited to post-natal clients with babies from 6 weeks to 6-12 months.
WORKOUTLIKEAFAMILY CIRCUITS
 classes are 30 minutes of circuits designed to give you a good all over body workout that your kids can join in with too. It's a mixed class so #workoutlikeadad's are welcome too. Circuits will be setup with kid's options if they want to join in but equally they can just play on the field while you get your workout done!
Exercise should be fun! Yes, there will be times when it's hard, and your muscles hurt, but if you've had fun doing it then you're so much more likely to stick at it. I try to make sure when I am planning the classes I keep them fun and different to achieve this. The classes are full of like-minded mums who have a laugh and you will meet new friends while all getting a good workout done. Workoutlikeamum is set up to be flexible and work for busy mums but you don't have to be a mum to come. There are plenty of people who come every week who aren't. Children are welcome at all classes.
MIXED Classes:
 There are 3 mixed classes: Monday 6.30pm workoutlikeafamily
Prices
Class prices
You can now book your classes online. Use the options below to book a single class or if you would prefer, you can make a block booking.
"Sarah's outdoor classes are the perfect start to the day…. Challenging and fun with a little bit of competition thrown in. It makes such a difference being out in the fresh air. Highly recommended."
"Sarah is a fabulous PT and class instructor. Her group classes are always original, fun, challenging and team building. I've never been to a class that's as well prepared or motivational as Sarah's. I would (and do!) recommend Sarah's classes and PT to anyone and everyone I meet and I love that I am able to be a part of workoutlikeamum!"
"I joined workoutlikeamum in May 2017 as it offered a fitness class where I could take my daughters with me and from my first class I was hooked. Each class offers a different and challenging workout in a fun and friendly environment. Sarah is an excellent coach and her enthusiasm and dedication to her classes is fantastic. I look forward to each class and have seen a positive result in both my fitness level and confidence. Thanks Sarah!"
"Sarah has done a fantastic job developing her business workoutlikeamum over the last 12 months. She is a committed, challenging, enthusiastic, flexible and supportive trainer who ensures that her group sessions are enjoyable and varied. I would have no hesitation in recommending workoutlikeamum whatever age you may be!"